Southam in WW1
Centenary Archive
Honouring those who died and all who served

L/Sergeant Fred Hodges (9787)
Fred was born in 1886 son of Frederick J Hodges and his wife Emma. He was a tall, healthy man, nearly six foot tall and before the war he worked as a labourer. He was married to Annie from Napton in 1905 and the couple lived in a tiny house in Stockton with their growing family.
Fred served with the Royal Warwickshire Regiment enlisting on 16th December 1914. His service records appear to be unavailable but he was severely injured on 2nd November 1917 and some medical details survive.
As a result of a gun-shot wound he suffered from 'Necrosis of the Lower Jaw' a severe condition – the word necrosis literally means death. He had a number of operations during his time at 2nd Western Military Hospital in Manchester. This hospital treated badly injured men from the early days as this photograph from 1914 shows.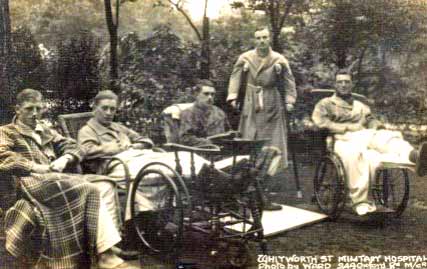 A number of hospitals in the area came under the same management and at one time Manchester had 25,000 beds for injured war victims.
L/Sergeant Hodges was demobbed in May 1919 but he had to return to Manchester for treatment and assessment for several years. He suffered pain when moving his mouth, eating or yawning but he was nevertheless signed off in 1921.
Despite his injuries Annie and Fred appeared to cope in later years. They had more children after the war and by 1939 Fred was again listed as working at the quarry as a 'general labourer – heavy work'. He died in 1969 aged 83 years old and is buried in Southam church yard.