Southam in WW1
Centenary Archive
Honouring those who died and all who served

Private Albert John Hodges
Albert J Hodges was born in 1884, son of John Faulkner and Emma Hodges. His father was originally employed as a rope spinner and eventually as a thrashing machinist and labourer.
Albert worked as a quarryman and married Annie Maria Gould, from Glasgow, in 1907.  He enlisted in 1916 and was demobbed in March 1919. Nothing is known of his military service but he came back from the war determined to work for the condition of the working man.  This extract (Warwick and Warwickshire Advertiser Dec 31 1921) lists his activities in social, public and political affairs. It was published when he was appointed as a Magistrate.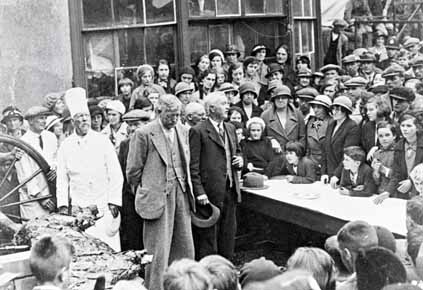 Albert's involvement in the life of the town continued. This photograph is said to show him at the auction for the first slice of the Ox Roast in the 1930s.
By then Albert Hodges was a Tobacconist and China Merchant in Warwick Street.
He died in 1953 and is buried in Southam church yard.