Southam in WW1
Centenary Archive
Honouring those who died and all who served

Driver Harry Hazzard (1634/860960)
Born in Northampton in 1887, Harry Hazzard by the age of 13 years was working as a brush maker in the shoe trade. He moved to Southam together with his brother Henry and they lodged with their sister Elizabeth whose husband, their brother-in-law Jonathan Cardall, was landlord at the Bull Inn.
 By the time he enlisted in 1917 his father had died, and his mother had remarried, so Southam, to the young man, was home. He served as a driver in the Royal Field Artillery (1634/86090).
After the war he returned to his earlier trade and worked instructing in woodwork. Living in Rampton South Yorkshire, in 1929 he married Madeleine Alice Roys a young woman 18 years his junior. Later they lived nearby at Retford, Nottinghamshire where he was an instructor in brush making. He seems to have had a healthier life than his brother, and as a white-collar worker, he prospered in his employment.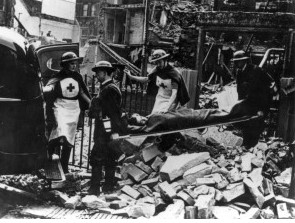 Before WW2 broke out Harry enlisted as an Ambulance Driver for the Civil Defence. This unit was established nationally by the Home Office in 1935. It was hazardous work for Ambulance teams who went into the bombed areas and triaged, as in the trenches, the light injuries to be dealt with on the spot whilst more severe cases were transported to volunteer medical units.
By WW2, when he was probably doing day and night shifts of this dangerous work, Harry was in his 50s but he lived to be 87 years old.  He is buried, back in his old home town, in Southam Churchyard.
This WW2 photograph, taken from the Red Cross Archive, shows the proximity of a Civil Defence Ambulance to the bombed area.