Southam in WW1
Centenary Archive
Honouring those who died and all who served

Frederick Charles Hazzard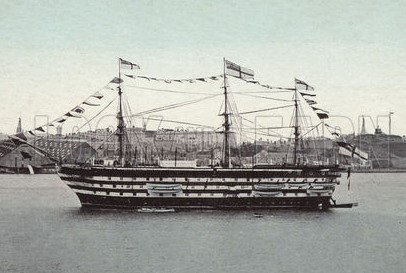 Born in Northampton in 1881 Frederick was brother-in-law to Jonathon Cardall. Jonathon had married Elizabeth Hazzard in 1897 and by 1911, two of her brothers were staying with them at the Bull Inn. Fred Hazzard was listed as an 'ex-seaman' and, recently discharged, was unemployed.
The Hazzards of Northampton were employed in the shoe trade – Fred's father also called Frederick, was a shoe clicker. Young Fred left the crowded household to join the Royal Navy signing on for twelve years. He served on many vessels – this was his first HMS Impregnable. Shown on this postcard it was built in the early 19c and served as a training vessel.  He rose to be AB – Able Seaman – and on leaving in 1910 he was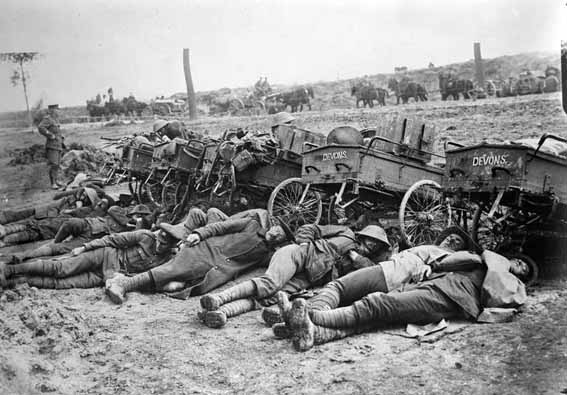 recommended for RNR . His conduct was described throughout as 'very good'.
But during WWI, when Fred enlisted in June 1917, it was noted he was of 'poor physique'.  He was by then aged 36 years and was only just over five feet tall. He gave his address as The Bull Southam – his father was dead and mother remarried – this was home. He was not sent back to sea but served in 3rd Dorsets in the 424 Agricultural Labour Corp based in Dorset. Not necessarily an easy option if this photograph of these men of the Devonshires taking a break under the eye of an officer is a typical scene!
In 1918 he married Lillian May Robinson, lived in Northamptonshire and later in life he moved to the Rhondda.  By 1939 he was listed as an unemployed miner and he died in Pontypridd in 1943.