Southam in WW1
Centenary Archive
Honouring those who died and all who served

Private Mark Hugh Griffin (428236)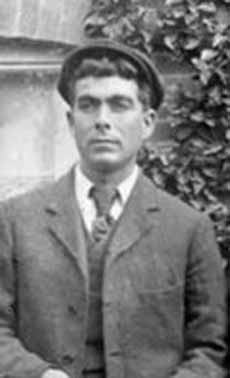 Mark Griffin was born in 1886 in Farnborough and the family moved to Southam when his mother, a widow, remarried in 1891.  In 1910 Mark married Fanny Frances West. They lived in Daventry Street and Mark worked for an insurance agent. They had four daughters.
Private Griffin enlisted in 1916 in 7th Devonshire Regiment. His military papers are extremely faint to read on-line so why he was transferred to the Agricultural Corp in Autumn 1917 is not clear – maybe he had sustained an injury. In 1919 he went to the Rhine with the Labour Corp before being demobbed in September of that year.
By 1939 he was listed as 'incapacitated' so whether this is the remains of war injury is yet to be established.  He died in 1951 in Warneford Hospital aged 67 years.
Mark Griffin was a stalwart of the British Legion and at his funeral at Southam Parish Church his coffin was covered in the Union Jack as members and ex-servicemen honoured their colleague.
Mark Griffin was great uncle of local historians Alan and Bill Griffin. He was brother of George who also survived the war and of Ralph who tragically died in the conflict.