Southam in WW1
Centenary Archive
Honouring those who died and all who served

Private William Thomas Glenn (2056)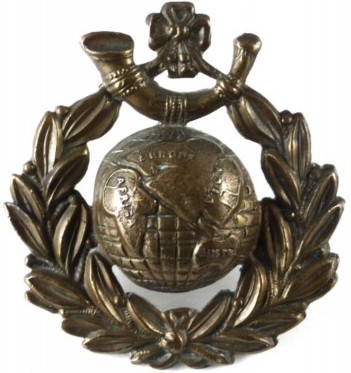 William was born in Long Itchington in 1890 and his family moved to Southam when he was about three years old. As a bachelor he was the live-in assistant to baker John Thomas Grant senior. In 1914 he married Lily Elizabeth Satchell in Rugby. When he was conscripted in April 1917 his trade was 'baker'.
It was a difficult time for his boss John Thomas Grant the baker. His eldest son, also called John Thomas Grant, served in RWR and he might well have been reluctant to lose William Glenn his assistant. When Mrs Catherine Grant died in 1918, her husband had neither an assistant nor son to assist in the business and he had four younger children to bring up.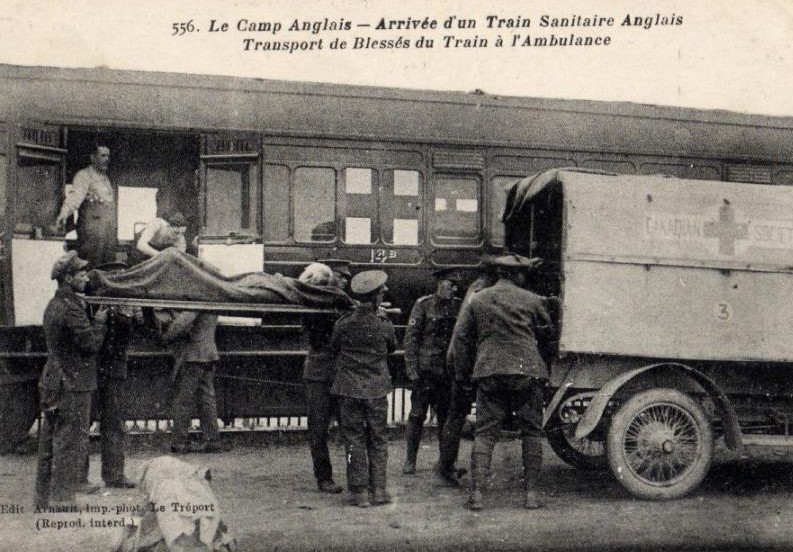 Private William Thomas Glenn served in the Royal Marine Light Infantry. In addition to ship-based duties, the RMLI served as land-based troop; they were involved in Belgium in 1914, at Gallipoli and during William Glenn's time in the 1918 Zeebrugge raid. The action was unsuccessful and there was heavy loss of life and many casualties.
Details of Private Glenn's service are not known except that he served in France and that throughout his commanding officer Charles Trotman said he was of 'good character'.  He was injured on 27th September 1918 with a gunshot wound in the cheek and he was transferred to the Queen Mary Military Hospital, Whalley. Ambulances and trains such as these transported the wounded to the port for embarkation.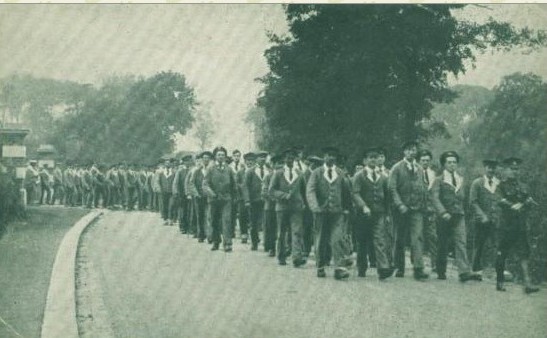 The huge hospital at Whalley (a former lunatic asylum) where he arrived on 17th October 1918 dealt with severe cases; it had 2,000 beds and 60,000 British and Allied patients were treated there.
This photograph shows rehabilitating patients going to watch a cricket match and it gives an impression of the scale of the hospital. William may have been part of this kind of event on his route to recovery.
He was demobilised in March 1919 with a war gratuity of £11.00 and awarded both the Victory and British medals.
William eventually moved from Southam to Bedworth where he and Lily brought up a large family. He worked as a 'baker and confectioner' and died in 1960 in Nuneaton.