Southam in WW1
Centenary Archive
Honouring those who died and all who served

Driver John Henry Gaskins T4 036205
John Henry was born in 1882 and went to the Council School. He worked at the lime quarry as a labourer and as a 'drawer' in the lime kiln. In 1903 he married Helen Morris at Stockton Parish Church and the couple lived in Appendix Street but moved around as his later story will show.
Driver Gaskins enlisted in December 1914 in the Army Service Corps and was sent to France in May 1916. He was a good soldier – his reports state his sobriety was 'good' and he was 'reliable'.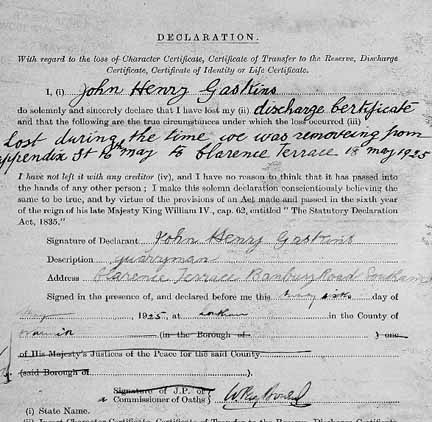 He injured his leg exercising the mules and appears to have been sent back to hospital in England.  When his post-hospital 'sick furlough' ended on 27 December 1917 he had to report to headquarters in London.
He served until 10th February 1919 and was awarded the British and Victory medals.
John appears to have mislaid his discharge certificate when the family moved to Clarence Terrace, Southam in 1925 and according to his records he was still trying to sort out his discharge paperwork by 1934.
Little more is known of his future life. By 1939 he and Helen and their family lived in George Street.