Southam in WW1
Centenary Archive
Honouring those who died and all who served

Signaller Ernest Gardner (11686)
Ernest Gardner was a former pupil of Southam Council School. His name was announced in the Warwick Advertiser in May 1915 on a list of thirty-five serving men who were former scholars.[1] His brothers Bertie, John and Frank were also listed. They were four of six sons of lime worker Alfred Gardner and his wife Annie of Appendix Street.
Ernest was born in 1897 and worked as a labourer in the brick works and lived with his widowed mother Annie in Coventry Street before the war.
Private Gardner enlisted in September 1914 in the Royal Field Artillery. He gave his mother's name as next of kin and was single. He was a gunner and his records show his change to signaller in 1918. When he went abroad in 1916, had a spell at 1st Southern General Hospital, Birmingham in the Stirchley Section. 
His records show a receipt for the Mons Star, and the Victory and British medals. By then, in the early 1920s his permanent address was 19, Glencairn Road, Liverpool.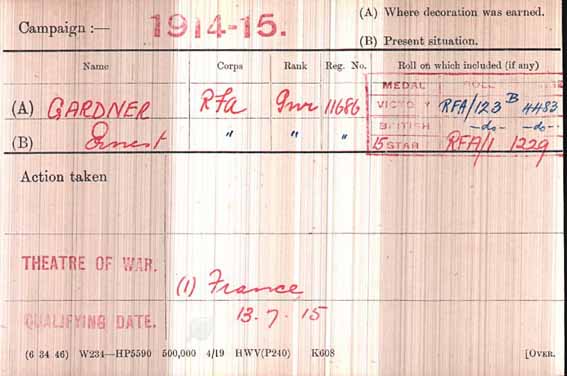 [1] Warwick Advertiser 1st May 1915.