Southam in WW1
Centenary Archive
Honouring those who died and all who served

Bernard Michael Gahagan (14535)
Bernard Michael Gahagan was son of Southam postmistress Mrs Webb and of the late Thomas Gahagan an Irish Catholic civil engineer who worked at Chatham. Bernard was born in Canterbury in 1891. He went to boarding school in Chelsea and then lived in Southam and worked as a solicitor's clerk. He served four years with the Warwickshire Yeomanry.
Like a number of young Southam men including the Bull brothers who lived over the road on Market Hill, he emigrated to Canada arriving in Quebec on 12th July 1912. Also like the Bull brothers, in September 1914 he enlisted in CEF. He served with the Royal Canadian Dragoon/Imperial Army. Serving as Lance Corporal he received a gun-shot wound to the head at Givenchy and spent time in Rouen and other French military hospitals before arriving at 3rd Southern General Hospital, Oxford where 'discharges and fermentations' from the wound were still noted. He gave Mrs Webb at Southam Post Office as next-of-kin. Eventually his notes state he would be fit for active service after six weeks.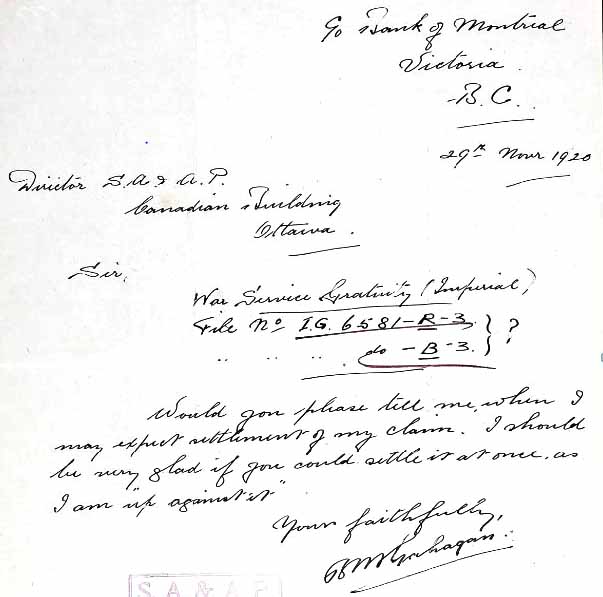 At some point he was transferred to the British forces  and was Gazetted (19th April 1918), being given a 'field' promotion from Lance Corporal to 2nd Lieutenant in the Inland Water Transport section of the Royal Engineers.  He received British and Victory medals and 'Star' from the Canadians.

In Autumn 1918 he was married in Wales at the Parish Church in Chepstow to Rosina Marie Lanfere, daughter of a farmer whilst stationed with the Royal Engineers at the Cherry Orchard Camp in Chepstow.
Before discharge his pay was subsequently addressed to Mrs B.M. Gahagan, Pandora, Victoria via the Bank of Montreal. Later after he was repatriated to Canada money issues are the last we hear of him. He sounded desperate stating he needed his final army pay gratuity as he was 'up against it'.