Southam in WW1
Centenary Archive
Honouring those who died and all who served

Private Tubal Fitchett (SS1123)
Tubal Fitchett (b.1892) was one of nine children of Ann and Alfred Fitchett, who lived on Daventry Street.  Alfred, a grocery porter, died young, before Tubal was ten years old, leaving Ann (aged around forty) with a large young family to bring up.
Tubal was a baker and served in the 7th Field Battalion of the Royal Army Service Corps in France leaving Avonmouth on SS Lord Tredegan on 4th October 1914. He served throughout in field bakery units.  In France, in Bolbeque, he met his future wife Louise Pascaline Eugenie Malandain, who was a cook in a big house.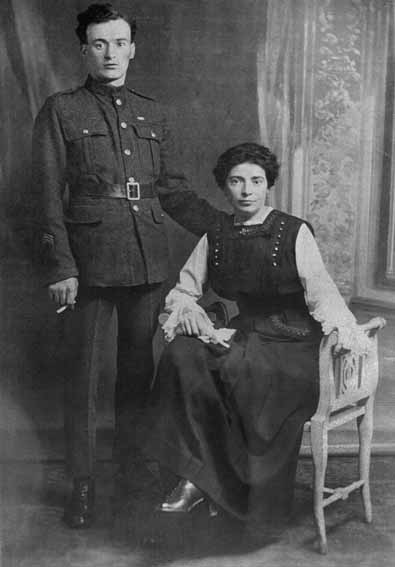 After the war Louise came to Britain. She was a very elegantly dressed young woman and they would have looked a distinctive couple when they married in Southam.  They had one son Bill (or Willy as he was called) but Louise tragically died young. She suffered from poor health. Reporting her death in 1932 the Warwick newspaper stated: 'Mrs Fitchett has been in failing health all the summer after a nervous breakdown in the spring'. Bill, like his father before him, grew up in a one-parent household.  He had learnt enough French from his mother to be bi-lingual, but it was a lonesome life for the lad and kindly neighbours often looked after him.[1]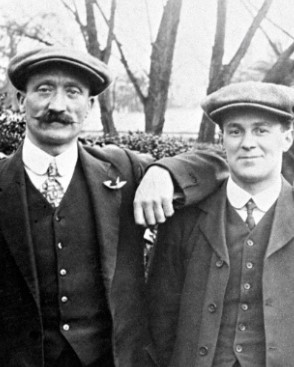 Tubal did not find employment in baking but worked variously as a carpenter, labourer and as a quarryman. He remarried when he was 65 years marrying another cook, this time 63 year-old-widow Ethel Hearn. Their life together, living in Craven Lane, was cut short by Tubal's death the following year. He was not a rich man, leaving his wife about £400. He is buried in Southam.
Tubal is pictured with his grown-up son Billy Fitchett.
[1] Stella Baillie, daughter of Billy and granddaughter of Tubal Fitchett has shared family memorabilia and information with Southam Heritage Collection.