Southam in WW1
Centenary Archive
Honouring those who died and all who served

Alfred William Fitchett (b.1886)
Alfred William Fitchett was born 1886.  He was elder brother to Tubal (b.1892), Fred (b.1890) and Montague (b.1895). They were all sons of Alfred W. Fitchett (senior) a Southam man and his wife Ann, who came from Fenny Compton. Ann kept a clothing shop for more than thirty years in the town.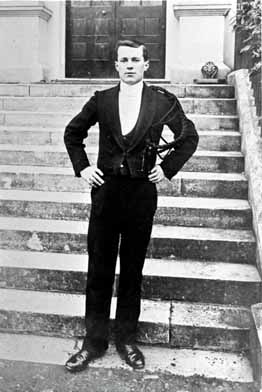 By the age of fifteen Arthur William (local historians have called him William) was working as a 'hall boy', one of thirteen live-in servants at Hornton, an estate in North Oxfordshire. Alan Griffin, whose records held these two pictures from a Mrs Gardner of Stockton (a relation maybe) records that William was employed as a boot boy at a hotel in Scotland. He looks suitably smart (left) on the steps of this establishment but perhaps this is Hornton – we have no details of a Scots connection. By 1911 he was back living with his widowed mother and brothers Tubal and Fred in Southam where he worked as a 'boot maker and repairer'.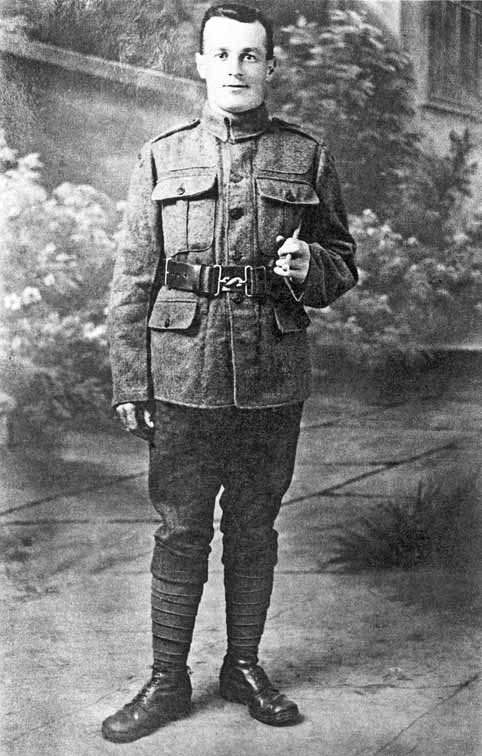 It has also been recorded that he served with the Surrey Rifles (21st County of London Regiment) and the Royal Flying Corps.  So far no service records have come to light but he is pictured here in army uniform in another photograph from Mrs Gardner, dated around 1916.
William survived the war and continued to thrive  in business as a boot maker.  He was married in 1922 to Annie Adkins, a carrier's daughter and they lived in Daventry Street.
He died one day in July 1954 at Stratford Racecourse. It was reported that he died intestate but left considerable wealth – almost £5,000.