Southam in WW1
Centenary Archive
Honouring those who died and all who served

Walter Charles French (Jack) Fessy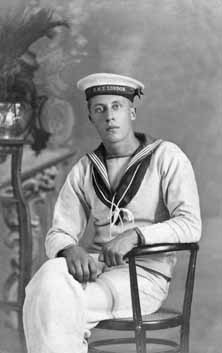 Walter Charles French Fessey (Jack), from Southam, was a pal of Will Eadon from Top Tomlow and they enlisted as soon as war broke out. Jack was born in 1896 and before the war he worked as a labourer at the brick yard.
Jack, a tall handsome blonde blue-eyed eighteen-year old, enlisted on 31st August 1914 signing on for twelve years as a 'regular' in the Royal Navy. He prospered for his conduct was always classed as 'very good'. He trained as a diver and served on a number of ships including HMS London, HMS Cordelia, and HMS Columbine.
Jack served for several years after the war ended and bought himself out in 1922 for £24. Subsequently he married, lived in Finedon, Kettering and worked in the furnaces. He died in Kettering in 1991 aged 96 years.
(Based on conversations with Audrey Haynes who allowed us to reproduce the photographs)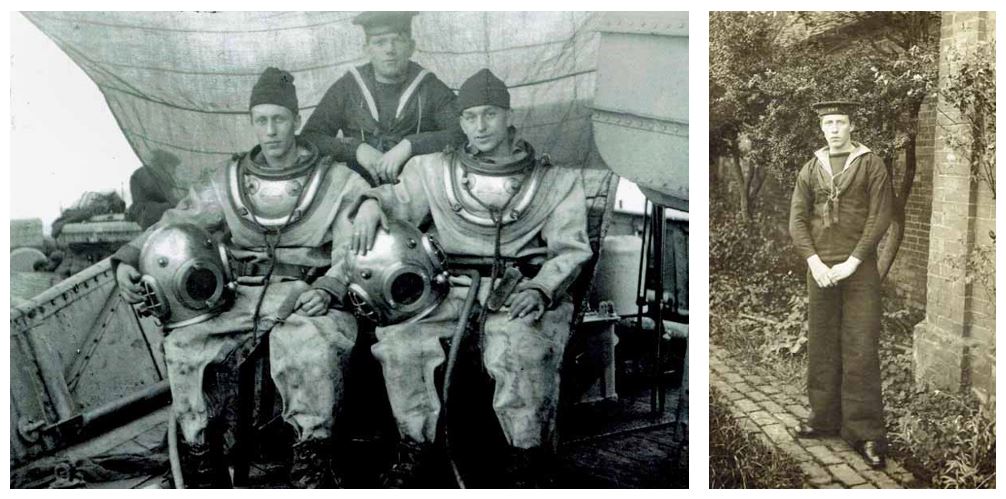 Right Jack Fessey in 'blues', and above in diving gear on left of group.