Southam in WW1
Centenary Archive
Honouring those who died and all who served

Sergeant Richard Alfred Fell (7022 after August 1920 530618)
Richard Fell was born in Southam in 1893. His father, Frederick Fell, was a stone quarry worker and later in life a jobbing gardener.  His mother Ellen née Kiteley was a 'sick nurse' for a long time in the town. The couple had five children three of whom died in infancy. Richard's elder sister Dorothy was a teacher in Southam so it was a small household and probably reasonably comfortable.
Life changed radically for Richard Fell when in June 1911, a month before his eighteenth birthday, he enlisted as a regular in the 11th Prince Albert's Own Hussars; he listed his trade as groom. The regiment at that time was based in Ireland so within days he was on his way, to Irish C. Dept., working with horses and absorbing all the multiple training demands of service life. In October he became part of the 11th Hussars.
We lose sight of him until 8th August 1914 when immediately war broke out he left with BEF, serving in France and Belgium. One of the first Southam men to leave, he was one those soldiers known as 'Old Contemptibles'– a name often given to men who, in the first sixteen weeks of war 'engaged with the enemy'. For this service he was awarded the Mons Star, which is a bronze medal ascribed '5th-22nd Nov 1914' together with a clasp of a small silver rosette. Some 350,000 of these clasps were made but many were not applied for, or sadly their recipient had died. Richard Fell applied for his in 1932.[1]

Details of his WWI service are not known but this photograph showing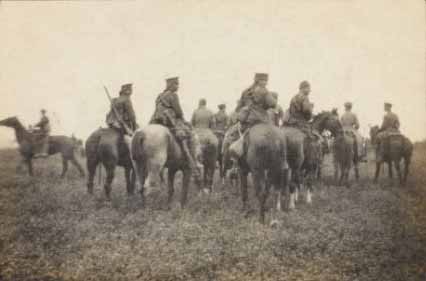 the cavalry in action at the Battle Nery during the retreat from Mons gives perhaps a glimpse of the life he knew.[2]
It is not known when Richard Fell was promoted Sergeant but probably in the course of those four years on the Western Front. He returned to civilian life on 2nd February 1919 and was retained in the reserves. He was recalled to serve (by now transferred to the Royal Tank Corps) in 1920, when forces were mobilised as a precautionary measure in the face of civil unrest in the country.  He was stood down after nine weeks.
Meantime there had been changes in his private life. On 6th Feb 1917 Richard Fell married Mabel Hemming who was three years older than him, at Napton Parish Church.  Mabel was the daughter of a tradesman, Joseph Hemming, of Hill House, Napton.  Mabel worked as an assistant teacher. Their child Sheilah was born in October 1919 and the birth registered in Southam.
Sergeant Fell was discharged with a 'v.good character' from the reserve in June 1923 and initially the couple lived at 6, Harvest Hill, Allersley, Coventry.  Later they moved to a house named 'Woverley' on Birmingham Road in what then was rural Meridan.
Richard Fell was employed as a School Attendance Officer in Coventry and his military background likely assisted him in the role. For example in 1936 he was the principle witness in a police prosecution case against a family whose children had attended on just 28 out of 212 occasions.[3]
He was a Special Constable during WW2.  He died in Meridan in 1966 outlived by Mabel who died in 1981, aged over ninety.
Sergeant Richard Alfred Fell was the recipient of the Mons Star with clasp, British and Victory Medals.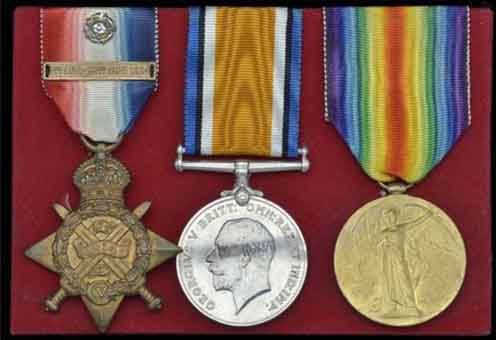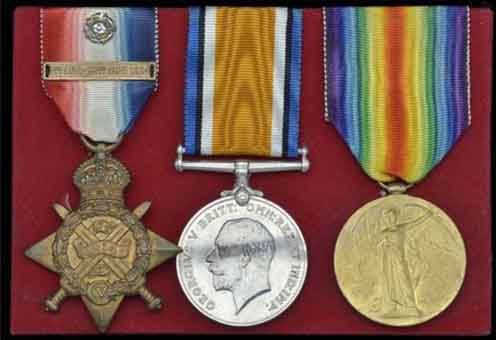 [1] I am grateful to Malcolm Thomas for unpicking the information and military details in the Royal Tank Corps enlistment records.
[2] Battle of Nery 1 Sept 1914. The photograph, property of National Army Museum, is out of copyright.
[3] Midland Daily Telegraph, 20 May 1936.