Southam in WW1
Centenary Archive
Honouring those who died and all who served

Private George Fell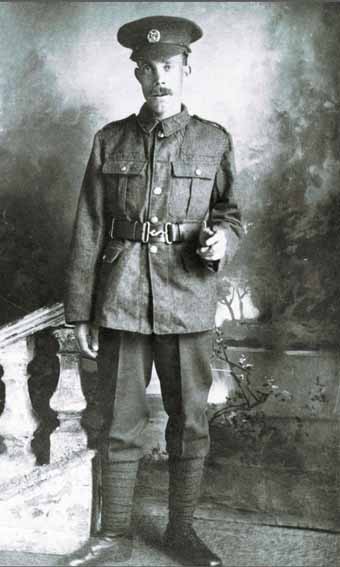 George Fell was born in 1885 son of farm labourer Thomas Fell and his wife Emma. Young George's father died when he was a toddler aged two; later Emma remarried and George and his brother were brought up in the household of his step-father, William Williams, together with the couple's new family.
In 1906 George, a quarry worker married a Southam girl Beatrice Lydia Pratt. They lived on Mill Terrace with their only child Doris who was born in 1907.
George's war records appear to be partially destroyed but they tell of a tall man 5'8" enlisting on 3rd May 1916 when his occupation was given as 'gardener'; his medical condition was not top notch: B2. According to Alan Griffin this photo was taken when George was in the Army Remount Service. (That branch of the army maintained the logistics of the million and more horses procured for the war).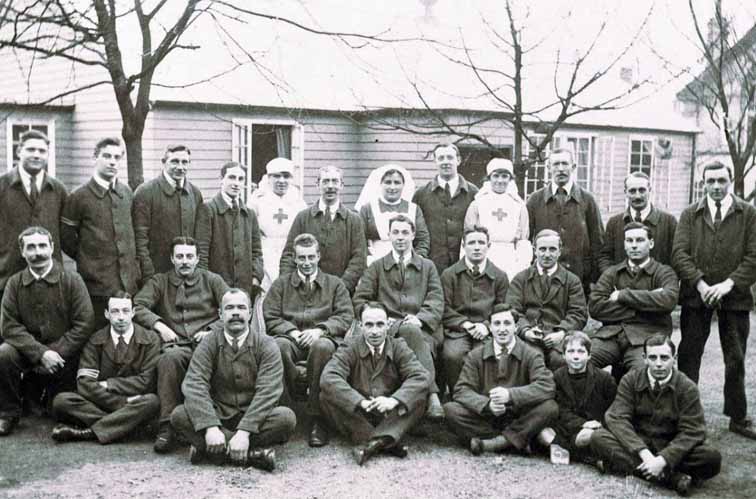 George appears to have had a spell in hospital. He is here on the second row, kneeling left on this VAD hospital photo of 1917; it was winter, the men were in their outdoor coats with hospital 'blues'.[1]
Private Fell was transferred (records are not clear from where) to the Norfolk Regiment's Horticultural Corp in June 1917 (240534).  He was demobbed in 1919 September; medically he was deemed to have a weakness of the leg from a fracture four years earlier. Possibly this was a quarry injury before he enlisted.
After the war we lose sight of him. He died in 1948 and is buried in Southam churchyard. Lydia lived to be 82 years and in 1964 died at the home of their daughter in Deppers Bridge.
[1] Photographs from Alan Griffin's Collection now in Southam Heritage Collection.