Southam in WW1
Centenary Archive
Honouring those who died and all who served

Driver Frederick Jesse Fell (126716)
Fred was the son of John and Betsy Fell who had three sons who served during WWI.  John George (b. 1876), Wallace Reginald (b.1895) and Frederick Jesse (b.1893) were all in the army and their younger sister Olive was a VAD at Southam's Red Cross Hospital.
Fred was a quarryman but at the end of 1912 he decided to enlist as a regular in the Oxford and Bucks Light Infantry (9821).  He did not settle to it and within the regulation three month option period he bought himself out for £10. He was demobbed on 27th January 1913 having served just fifteen days but his military career was not destined to end there.
Frederick Fell served during WWI as a driver in the Royal Horse Artillery and was awarded both the British and Victory medals. It is hard to envisage the role of the artillery driver but this image shows a team in action in the Hundred Days Offensive (August- November 1918).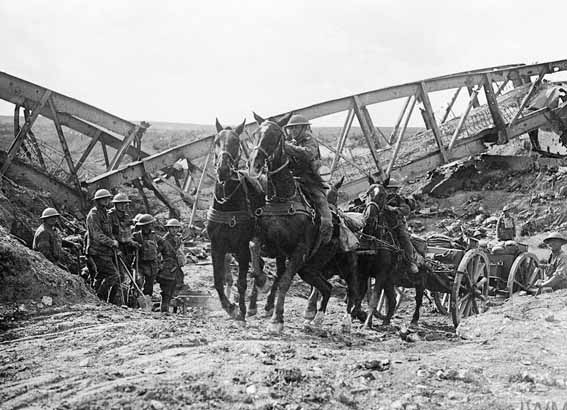 After the war Frederick went into farming and in 1930 was married in Southam to Hilda Melrose Powell a local girl from Long Itchington. He died in 1977.