Southam in WW1
Centenary Archive
Honouring those who died and all who served

Private William George Checkley (36924/44742)
George William was son of Charles and Elizabeth who lived in Abbey Row. His older brother John Checkley had been killed in October 1914. George married Annie Hodges in 1911 and he worked in Southam for Mr A. Hough, Forage Merchant, as a Hay Binder.
Called up in August 1916, Private Checkley served for two years in England in the Devonshire Labour Corp and later in the Dorset Corp. On his military papers his children are listed as Sidney and Frederick Rawlings, and Beatrice, Maude and Henry Checkley.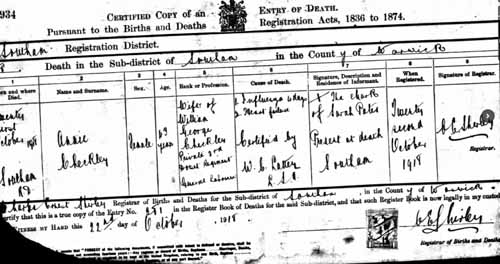 Tragedy struck in his home when on 22 October 1918 his wife Annie died. Her death certificate shown here indicates she died in the influenza epidemic of flu and heart failure; she was forty- three years old.
In November 1918 on demobilisation he was medically examined and found to have asthma and to have a serious defect in one eye caused by being kicked by a horse in his youth. Neither conditions were caused by war service but he was deemed 'surplus to military requirements' and demobilised on 14th January 1919.
George returned to farm work and died in Leamington in 1960.