Southam in WW1
Centenary Archive
Honouring those who died and all who served

Peter Victor Burnell (11789)


Peter Victor (known as Vic) was the third son of Omer and Harriet Burnell. Born in 1886 he was one of four brothers – Omer, Plascid, Victor and Bernard – who served in WWI and they all survived the conflict.
Vic served with Royal Warwicks (seen below right with colleagues) and he was badly injured in the Gallipoli campaign. He was discharged and awarded a Silver Medal (98398) in 1916. This was worn by wounded ex-soldiers to show they were not shirking. According to newspaper clippings supplied by his nephew he helped in the gardens at The Grange (where the youngest of the family, Lily, was a VAD nurse).
He worked at Stoneythorpe in the grounds and in 1920 married Emma Blackwood who was working at the hall as a cook. He converted from Catholism to C. of E. and they were married at Bascote Heath Church.
He continued to be involved in horticulture and was active in the life of the town and the church, and despite having suffered, so family stories go, with pieces of shrapnel that came out of his skin for many years after the conflict, he lived to be 92 years old.[1]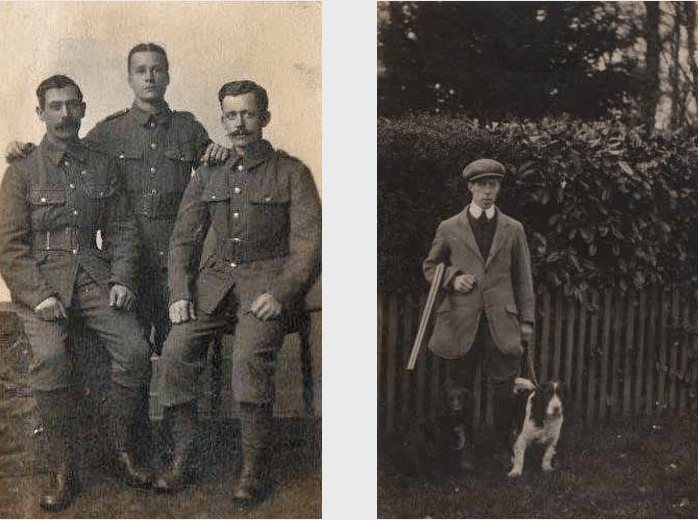 [1] We are grateful to Bill Burnell for family details, newspaper clippings and photographs.
Peter Victor Burnell is pictured below in his Fire Service uniform on the left of two other members of the Burnell family who also served in the Fire Service – Omer Burnell and William Thomas Burnell