Southam in WW1
Centenary Archive
Honouring those who died and all who served

Private Cecil William Bourne (26768)
Cecil, born in 1896, was the son of Lancashire-born solicitor William Percy Bourne and his wife Ethel. William Bourne came to Southam to work for Ethel's father, also a solicitor and married the boss's daughter. The family lived in comfort on Ladbroke Road with a live-in nursery governess and a general servant.
Perhaps inevitably young Cecil went into the legal profession. He gained an Open Exhibition Scholarship to St Edward's School, Oxford and by the age of sixteen he was already taking legal examinations and soon he joined his father in the firm.
In July 1917 Cecil's father appealed to the Warwickshire Tribunal to attempt to gain exemption from military service for his son. He claimed that running the firm would be a 'serious handicap' without his son, due to health issues and pecuniary circumstances.  The appeal was rejected but he was given exemption until mid-September 1917.
Private Bourne served with the RWR and gained the British medal.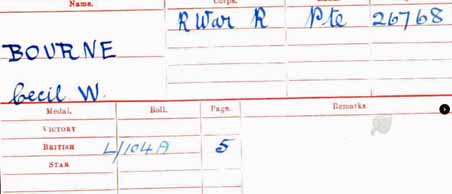 After the war Cecil was involved in the Royal British Legion along with other Southam ex-servicemen. The firm prospered and by 1923 Cecil became Clerk to the Justices. He and his wife Sarah lived on Warwick Road where they raised a family.
Cecil William Bourne died in 1968 and is buried in Southam churchyard.