Southam in WW1
Centenary Archive
Honouring those who died and all who served

Arthur Edward Baldwin
Arthur Edward Baldwin was born on 20th January 1898 and is not to be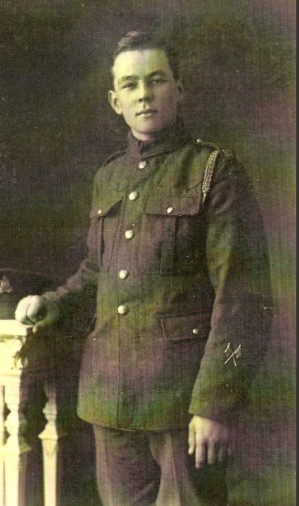 confused with Arthur Baldwin who was also born in Southam in the same year and who was killed in WW1.
Arthur Edward was the eldest son of John Henry Baldwin a labourer at the cement works and his wife Sarah Ann.  By the age of thirteen years old he was working as a labourer at the brick works.
This picture is thought to be him and if it is, his uniform indicates that he served with the Royal Garrison Artillery. However nothing has so far been found of his military career.
Arthur Edward Baldwin married in 1926. His bride was Edith Clara Maule, a Londoner by birth, whose family moved to Oxfordshire when she was a young girl.
The couple lived in Long Itchington where Arthur Edward worked as a labourer. He died in 1981 aged eighty-three years old. His wife died in the 1960s and for his final years he lived in the British Legion's Galanos House, the care-home for ex-service personnel in Long Itchington.  This is another clue to his military background.