Southam in WW1
Centenary Archive
Honouring those who died and all who served

Lance Corporal Richard Abbott (388004)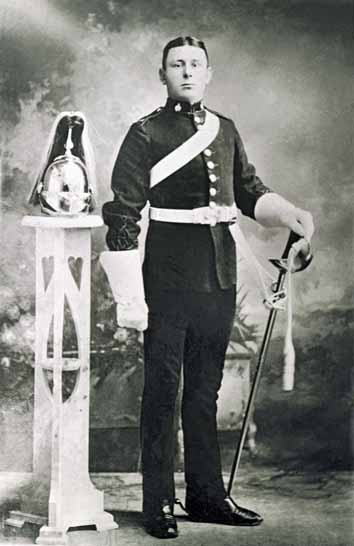 Richard was born in 1892 the son of Thomas Abbott, a farm labourer and his wife Elizabeth. The family lived at Coventry Street, Southam. He was four years older than his brother William who was killed in the war. Richard survived to live a long life serving twelve years as a professional soldier.
Richard became a groom before enlisting in early 1911, at the age of 18 years in 1st Dragoon Guards. This picture shows him smartly attired in full dress guard's uniform complete with spurs, plumed helmet and sword.
As a regular soldier he was in the first wave of the BEF arriving in France in November 1914. He returned to England just six weeks later in February 1915 although whether this swift return was through illness, injury or retraining his records do not indicate.
In July 1915 he married Lily Bradley in Aston, Birmingham and that city seems to have been his home base henceforth.
His regiment was with the BEF from February 1916 in major battles before in October 1917 being dispatched to India where he served until Autumn 1919 during a turbulent time on the subcontinent. He received four medals – Mons Star, British, Victory and the India medal.
After completing his enlistment period he was discharged in 1923. He and Lily lived at 124 Garrison Street, Small Heath Birmingham. He seems to have worked with horses for much of his life for by 1939 he was a railway stableman. He died in Birmingham in 1968.
This photograph is in Southam Heritage Collection.