Southam in WW1
Centenary Archive
Honouring those who died and all who served

Corporal William James  Gerard (3412)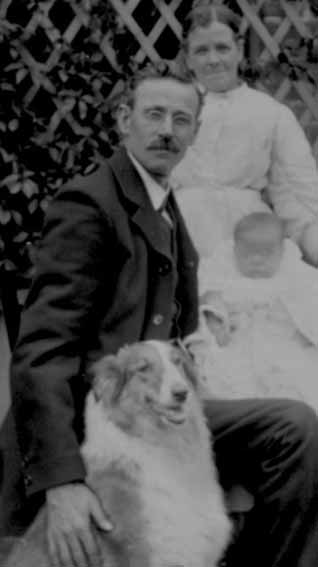 William was born in Derbyshire to William and Alice Gerard in 1889 and was baptised two years later in Turnditch. He remained in the area working as a nurseryman and in 1908 he sustained a serious injury to his eyes in a lightning strike.
He married a twenty-nine-year-old widow, Mary Jane Lea, in the summer of 1911.  Mary Jane (nee Fletcher) who originated from Bishops Itchington was at the time living with her seven-year-old son George Lea, and her widowed mother, in Southam. Both women worked as caretakers.
William and Mary Jane lived on Oxford Road and went on to have a family of sons and it is thought that this picture shows them with Albert their youngest born in 1920.[1]
Private William Gerard enlisted on 17th November 1914 and served with 7th Reserve Battalion of the Royal Warwickshire Regiment. Rapidly promoted to Corporal, he served in Britain and his trade was listed as 'agricultural and horticultural expert'.
However his service was cut short by ill health.  Discharged as being 'no longer physically fit for War Service' and with defective vision which was assessed as 50%, he was awarded a Silver Badge (141878).  Four children (including George Lea) were listed on his military discharge papers and his character was noted as 'very good'.
William James Gerard was the step-great-grandfather of Alan Cross who has assisted in the search for details of this soldier.
[1] Photograph kindly supplied by Corin Tew.