Southam in WW1
Centenary Archive
Honouring those who died and all who served

Private William Thomas Amos (1893 – 1917)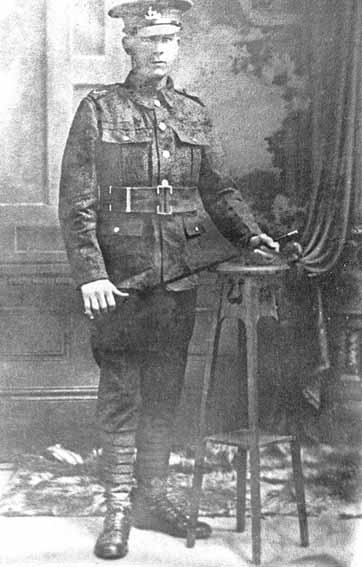 William Amos, born in 1893, was a Southam lad who before the war lived with his widowed mother Sarah, and older brother Frank, at Mill Cottages on the Welsh Road. The Amos family came to Southam in the 1870s. Sarah (b.1854) came originally from West Wigginton in Oxfordshire and her late husband George (b. 1850) was born in Farndon in Northamptonshire. George, like his father before him, was an agricultural labourer.
The couple had six children but George died before he was 50 years old and the 1901 census shows that with two boys still at home (Frank aged 16 years a lime works labourer and William an eight year old school boy), his widow took in sewing to make ends meet. These two sons were still at home ten years later when the census shows Frank had changed to farm work, and William, often known as Bill, was working as a draper's porter.
It is impossible to imagine the effect on the widow Sarah of losing her youngest son. She lived to over 80 years dying in January 1935 and she is buried in Southam church yard not far from the war memorial that commemorates her son's life.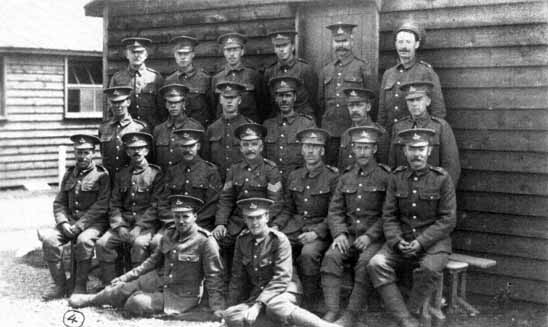 Private Amos died whilst serving with the Royal Warwickshire Regiment. In the picture (left) he is on the middle row, extreme right. William's individual image (right) is a snapshot of a large framed photograph which hung on the wall of his niece Miss Doris Amos. Doris, daughter of Frank Amos, was born in 1928 long after his William's death. Alan Griffin, who took the snapshot, recalls the WWI portrait was there in pride of place, commemorating him, towards the end of the twentieth century. Doris also donated the picture of his grave to a collection that is now housed at SHC; we do not know when that was photographed.
William Amos was originally in 10th Battalion RWR (19442). He was subsequently transferred to 1/6th Battalion RWR, (20900). Malcolm Thomas, a WWI historian who has researched the RWR's involvement in the Battle of the Somme has pointed out that of the 19,240 soldiers killed on the first day of the battle, 1st July 1916, 417 men from the Royal Warwickshire Regiment died that day.
Eventually the battalions of the RWR that had taken part were relieved to the rear of the front-line trenches for rest, recuperation and training. They were brought back up to strength with drafts of reinforcements.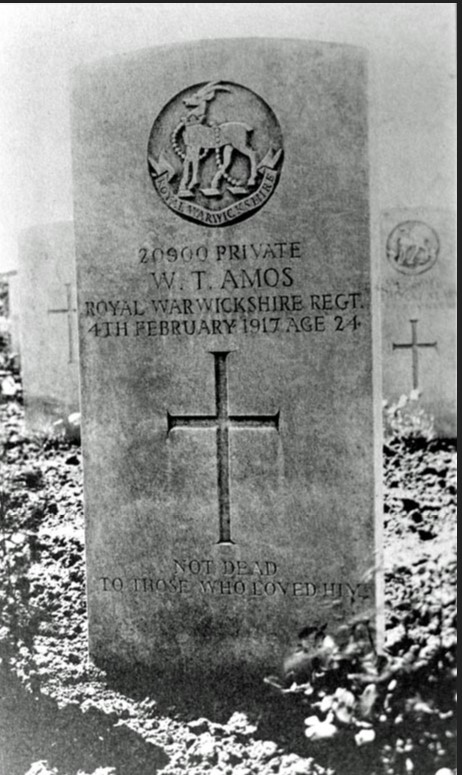 On February 4th 1917 the 1/6th Battalion were in the trenches on the Somme at Biaches opposed by the Prussian Guards. Private William Amos was one of 120 of RWR reported killed, missing or wounded on that fateful day. How he met his death is not known but he was originally buried in the Kiboko Wood Cemetery in a copse near the battle ground at Biaches where his grave was marked with a cross. Later in 1920 his grave was moved to the New British Cemetery at Assevilliers about 10 km south west of Peronne in France. This cemetery was made with graves from 12 battlefield sites on the Somme. All but one of the graves of the fallen were from the RWR and 20 were from Bill Amos's 1/6 Battalion.
We are grateful to Micah Parsons, whose great grandfather was one of the fallen, for sharing his coloured photographs of the battlefield locality taken on his recent visits. A committed researcher and a keen brass player, he has taken part, with a local French brass band, in a commemorative performances which was for him a very moving occasion. Micah is seen here playing a solo for the fallen actually in the graveyard, and out in the middle of a green field of spinach, facing the camera, Micah is standing on what he has calculated was the British front line. We would like to hear from anyone else who has knowledge of 1/6 RWR in Spring 1917; we would like to identify the other men on the group photograph.