Southam in WW1
Centenary Archive
Honouring those who died and all who served

Private Edward Walter Turner (TN/241270)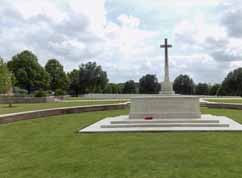 Son of Arthur and Jane Turner, Edward was just seventeen when war broke out but by the age of twenty he was dead – killed in action in October 1917 and his body never found.
Private Edward Turner was serving with 1st Royal West Kent Regiment, part of 13 Brigade (5th Division) alongside two other battalions of the Royal Warwicks on the Ypres Salient. The War Diaries (ref. WO 95/1555) give a detailed picture of the complexity and intensity of the action around the Menin Road area in what was part of the Third Battle of Ypres. The action to attack Polderhoek Chateau was unsuccessful and the enemy reoccupied the building.
Private Turner is commemorated in the Hooge Crater Cemetery alongside 3,578 other soldiers who lost their lives when they went into battle but whose bodies were not identified.
There is a moving display of explanatory material about the Battle of Passchendale (3rd Ypres) at the Hooge Crater Museum, near the Cemetery 4 kms from Ypres.