Southam in WW1
Centenary Archive
Honouring those who died and all who served

Private William Alfred Smith (17185)
For father and son to serve in the same conflict was unusual. William Smith (senior) survived but his son, aged only twenty years old perished.
Alice Rose Morby (b.1878) married William Smith in 1895 and the young couple lived in Leamington. They had two children, William Alfred (b.1896) and Dorothy (b. 1898), before William (senior), a twenty-four- year old labourer attested in 1901 for the Warwicks Imperial Yeomanry and went to fight in South Africa. He survived and served 342 days.
Sometime later the young couple moved to Southam where William worked as a chimney sweep. They lived on Banbury Road and by 1911 his young namesake, William Alfred, was working as a telegraph messenger. When war broke out William (senior) attested again on 3rd September 1914 and went off to war. This time he served only 77 days before being discharged in November; he was said to be of 'good character' but 'not likely to be an efficient soldier'.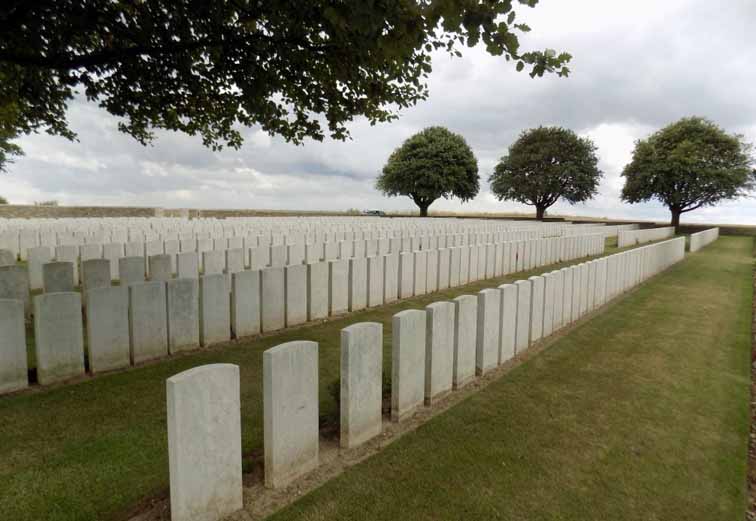 William Alfred Smith enlisted on 12th November 1914 as a private with 4th Grenadier Guards.  His battalion was in trenches on the Somme near Guedecourt late in the Autumn of 1916.  They came under heavy artillery fire and sniping and he lost his life on 16th November 1916. He is buried in Grove Town Cemetery, Meaulte a vast burial place near the Somme (pictured below).
On the Meaulte Cemetery details Alfred's parents' contact address was given as Club House, Blockley, Worcestershire. They had moved yet again. A year later Rose was listed as the sole legatee on her son's army paper work and received a gratuity after the death of her son of £4. 8s.9d.
The family moved around a great deal but William, who went to school and worked as a teenager in Southam, is listed on the Southam War Memorial and on the Commemorative Board in the church.