Southam in WW1
Centenary Archive
Honouring those who died and all who served

George Henry Shorthouse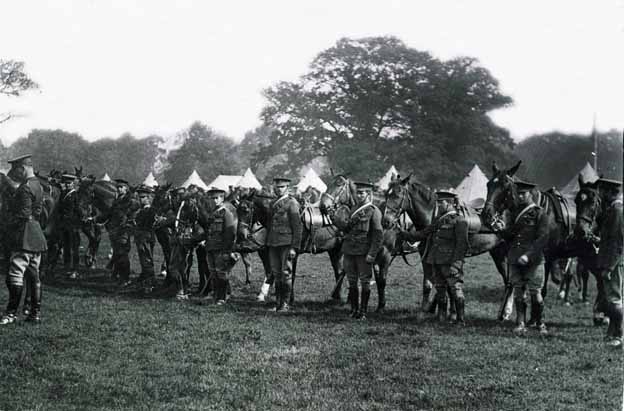 George was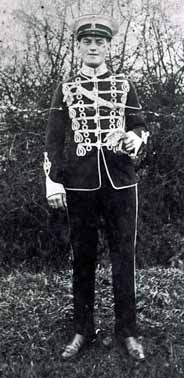 born in Staffordshire and his family moved to Southam whilst he was in his teens. They lived at Briar Farm Southam and before war broke out George worked with his father on the farm.
Along with other lads from Southam, 'Saturday-night soldiers' as they were often called, he was a member of the 'B' group, Warwickshire Yeomanry. He is here (right) resplendent in braided uniform with spurs and the unit are pictured in combat gear on exercise.  George is the tall man, 5th from right.
He was mobilised in the first days of the war with fellow troopers Chambers, Shearsby, Plummer, Neal and Smith and survived a major incident on the outward journey to Egypt in December 1914.
He was later transferred to the Western Front and survived another torpedo attack en-route. His good fortune ran out when, on 30th November 1917, he was taken prisoner.
When George was taken prisoner-of-war on 30th November 1917 it had a devastating effect on his life. On his return to Britain after the war the Leamington Courier described his experiences:
'[he] spent the first two months at Dulmen, Westphalia, when he was moved up to the Lille front and employed loading German aeroplanes with bombs. On the signing of the Armistice he found his way with many others, to the British lines, tramping nearly 30 miles a day. Pte Shorthouse can tell of the hardships suffered by our men…thirteen stone when captured, [he]got down to as low as seven…on a fare of bread and cabbage water; a loaf of bread having to serve 16 men for a day. Pte Shorthouse speaks with deep gratitude of the parcels he received from the Prisoners of War Fund without which he would have shared the fate of many of his comrades and died of starvation'.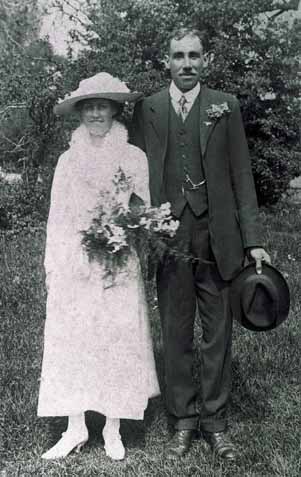 After his release George married Laura Shearsby in the Spring of 1919.  On their wedding photo (right) he looks a frail man and his health did not recover. A son, Leslie G. Shorthouse was born on 10th July 1920 and at some point the couple moved to a farm in Lincolnshire. There he died in November 1920 of 'valvular disease of the heart through having Enteric Fever and Rheumatic Fever whilst in the army'.[1]
He is buried in Carlby in Lincolnshire but his name appears alongside his former colleagues on the Southam War Memorial.
[1] Unsigned letter from Church Farm, Carlby supplied by Jason Shorthouse.