Southam in WW1
Centenary Archive
Honouring those who died and all who served

Private Albert Morgan (33634)
Albert was born in Bishops Itchington in 1885 son of Richard and Eliza Morgan. The family moved to Southam in the 1890s and lived in Abbey Row, Southam. Later they moved to Co-op Yard, Southam.
Albert married Ellen Elizabeth Fell in 1908 and they lived at 3 Abbey Road. Ellen was already mother of two children: Basil (who was bought up by his grandparents, George and Harriet Fell) and Gladys (born 1906).  Albert and Ellen had two children: George Richard Frederick (born 1910) and Alfred (born 1912) who died aged just one-year old.
Private Albert Morgan served with 8th Battalion Gloucesters a Regiment nicknamed 'The Glorious Glosters'. It was formed in Bristol in September 1914 as part of the Kitchener's New Army and came under the command of 57th Brigade in 19th (Western) Division.  After training they moved to Perham Down and by March 1915 they were in Tidworth. The Division was inspected by King George V on 23rd June 1915 and some left for France on 11th July with the main body crossing on 16th – 21st July. The Division served on the Western Front for the remaining time of WWI fighting alongside the 10th Battalion Royal Warwickshire Regiment.
Albert was killed in France on 10th November 1917. Private Morgan's final resting place is Outtersteene Communal Cemetery Extension, Bailleul.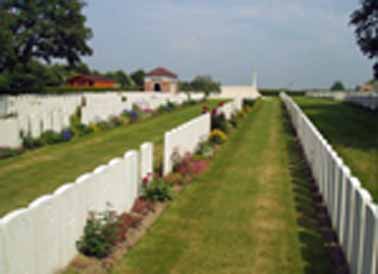 The village of Bailleul was captured by BEF on 13th October 1914 but no Commonwealth burials took place for nearly three years. In August 1917, during the Third Battle of Ypres, three Casualty Clearing Stations came to Outtersteene, and the last of these remained until March 1918. Bailleul was captured by the Germans on 12th April 1918 and retaken by the Allies with the ridge beyond it, on 18th-19th August 1918. This was the action that destroyed about 95% of the town.  After the Armistice, over 900 graves from the actions of 1914 and 1918 were brought in from the small cemeteries surrounding Outtersteene. Private Albert Morgan was one of these reburials.
Within a year of Albert being killed his wife Ellen Elizabeth died. The young children Gladys and George needed to be cared for. Records show that they did not attend Bishops Itchington School where perhaps paternal relations still lived, and therefore the Fell family in Southam may have given Gladys and George a home alongside their half-brother Basil.[1]
[1] Wendy Buckley of Bishop's Itchington has supplied the family information and shared her research into Albert Morgan's career.