Southam in WW1
Centenary Archive
Honouring those who died and all who served

Lance Corporal Henry George William Hodges (36922)
Henry Hodges died on 20th July 1916. He was with the 2nd Battalion Royal Welch Fusiliers when they were ordered to support a faltering attack on High Wood. The Battalion's CO, Lt. Colonel Crawshay said afterwards 'I have never seen such magnificent and wonderful disregard for death as I saw that day'. Casualties of the RWF were severe: 11 officers and 238 other ranks. These included Southam born Henry Hodges.
Although the Daily Mirror (9th October 1916) published this plea for information, the body of Henry Hodges, wounded in action was never identified. He is commemorated on the Thiepval Memorial.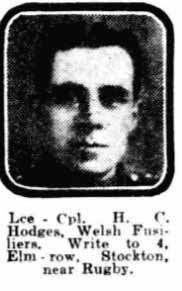 Henry George William Hodges was born in 1887 in Southam and as a young lad his family moved to Stockton. He worked as a gas engine driver at the quarry and in 1913 he married Harriet Hughes. They lived at 4 Elm Row, Stockton. Henry never saw his second child who was born after his death on 28th February 1917.
Harriet's life like so many young widows was not easy.  In 1917 she moved out of Stockton to Oxford Street, Southam and later to 1, Appendix Street. The military awarded her a small pension in respect of herself and her two young children.
Henry Hodges had had no previous military experience before signing up at Wrexham in November 1915. Eight months later he was in the midst of one of the most devastating actions on the Somme.