Southam in WW1
Centenary Archive
Honouring those who died and all who served

Lance Corporal Edward (Ned) Warner Hincks (11127)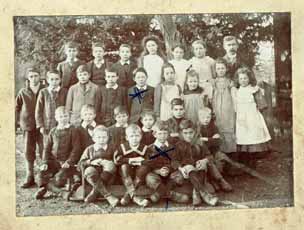 Ned's family farmed in Broadwell before the war and they moved to Holt Farm,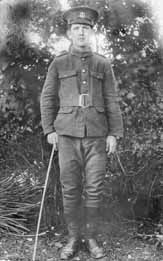 Southam on the Welsh Road, in 1912. His father, Marlow Hincks, dealt in polo ponies and race horses, and the family were comfortably off. Ned went to Leamington Hastings School along with his siblings and between them there was a happy, jolly relationship. They are marked on this school photograph.
Ned lied about his age when he enlisted in Rugby in the first weeks of the war. He was just seventeen. An accomplished horseman, he first served with the 11th Lancers and his early letters home speak of his knowledge and trust in the horses.
Ned's correspondence is preserved with sadness and care by his niece Liz Bishop of Southam.[1]  These letters tell so much about a brave young man and his attitude to warfare and suffering. He was lively-minded, always ready to have a laugh but he never told his family of the terrors or awfulness of trench life.  In his letters, Ned was preoccupied first and foremost with food. There are mentions too of girls and the farm back home and drink occasionally features, although he is supposed to have taken the pledge! Parcels from home were a frequent subject especially if the food contents including meat and fish arrived undesirably wiffy!
He had a regular, affectionate and jokey correspondence with his sister Maria[2] so it was distressing to her, in April 1917, not to hear from him for three weeks. Letters sent back by YMCA show the family writing to him, not knowing that he was dead. Sergeant Alexander Browne conscious that letters kept arriving, and that the family had not been notified, took it upon himself to write a long, honest, expressive and detailed letter from the field (22nd April 1917). He says:
'He got it pretty badly poor boy I believe and we were hoping it was a 'blighty' one. But when we heard he was dead it quite turned us all up completely…He died as he lived a little hero and will always be remembered by those of us who remain'.
Ned Hincks was a Lance Corporal with the 11th Battalion Middlesex Regiment when he was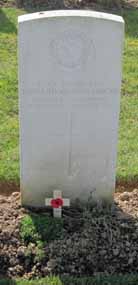 killed in action near Monchy-le-Preux on 12th April 1917. The official letter informing the family of his death was sent on 3rd May 1917. A letter from a friend also at the front (9th September 1917) shows a drawing of the engraved cross which marked Ned's grave in a shell hole 'between a support trench and front line of one of Fritz's old defences'.
 Later Ned was buried in Feuchy Chapel British Cemetery in Wancourt with a headstone of CWGC.[3]
[1] Liz Bishop has allowed copies to be made available and she lent to Southam Heritage items for exhibition of Ned's personal belongings that were returned from the front.
[2] See VAD for details of Maria and other details of Ned's family.
[3] The photograph of Ned's grave was taken in 2014 by Malcolm Thomas who placed the cross of remembrance.