Southam in WW1
Centenary Archive
Honouring those who died and all who served

Corporal Frederick George Hartley (13833)
Fred's father, also called Frederick George Hartley (1873-1959), was a jobbing gardener from Little Tew in Oxfordshire who in 1898, married Sylvia Manners (1876-1955), from Great Tew. They moved to Mountfield Gardens, Southam where young Fred was born in 1899. From the age of fourteen Fred worked as a gardener at Great Tew Park Oxfordshire.
Fred served in France and then re-enlisted and went, in 1919, with the 19th Battalion of the Machine Gun Corps to North Russia. Whilst Ellis Timms, another local lad, served in White Russia with the Royal Warwicks, Fred Hartley was with the Machine Gun Corps as part of the general reserve under the command of Sir Henry Rawlinson who was overseeing the withdrawal.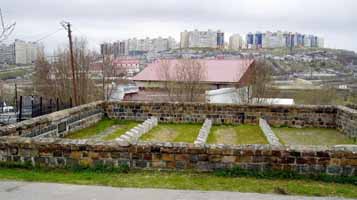 Fred arrived in late August and was killed soon after on September 13th 1919 taking part in an attack on Bolshevik and Red Finn positions 500 miles south of Murmansk. His is one of six British graves in a small Russian Orthodox churchyard in Svyatnavolok, near the village of Kav Gora. The CWGC has stated (16.2.17) that they are unable to maintain these graves in Svyatnavolok so they are 'alternatively commemorated' in Murmansk New British Cemetery.  A plaque on the wall of the Murmansk Cemetery can be seen in this picture.
It is hard to comprehend the conditions that soldiers and their prisoners endured but an official war photographer captured many scenes including female Russian peasants constructing railway tracks and supplies being delivered through the snowy forests by sleighs drawn by horses and by teams of dogs. These two pictures from the Imperial War Museum have been included to give an insight into the world that the Southam troops, including Ellis Timms who survived and Fred Hartley, who died, must have experienced.