Southam in WW1
Centenary Archive
Honouring those who died and all who served

Private Frank Louis Hancox (19338)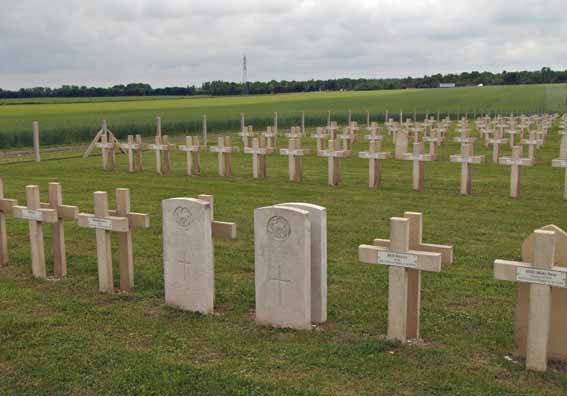 Frank is buried amid the crosses of the thousands of French casualties in the La Cheppe (Mont-Frenet) National Cemetery. He died along with two fellow soldiers of the 10th Royal Warwickshire and these CWGC headstones bear the striding deer emblem of the Warwickshires. On 4th June Frank Hancox was seriously injured in the leg, struck by an exploding shell and his limb was amputated. He did not survive and died on 5th June 1918.
Frank's family was not originally from Southam. His father Joseph was born in Idlicote and his mother Elizabeth came from Oxford.  After a spell early in their marriage in Ladbroke where Frank was born in 1887 they moved to Southam.  They lived across the road from The Crown Pub in Daventry Street and Joseph worked as a carpenter and chimney sweep. Joseph and Elizabeth had five children but they knew tragedy for one of their four daughters died young.
Frank followed his father into the carpentry trade. Early in the war on 16th September 1914 Frank married Una Burden daughter of a horse breaker from Stockton.
Una gave birth to a daughter Winifred on 6th September 1916. We do not know if Frank Hancox ever saw his daughter.