Southam in WW1
Centenary Archive
Honouring those who died and all who served

Private Ralph Griffin (1886 – 1915)
Ralph was born in 1886 in Farnborough.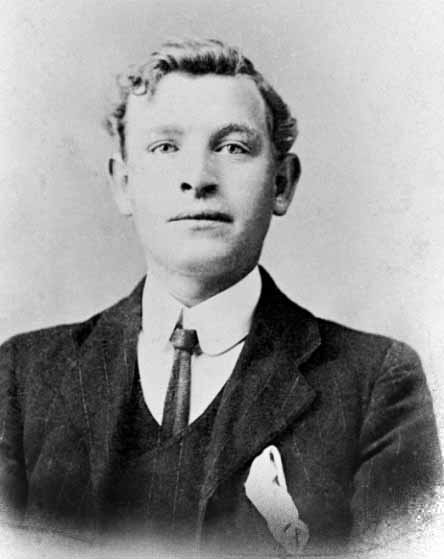 His father died when he was a young lad and by the age of 15 years he had a job as a live-in cow boy. As a young man he served with the Bedfordshires (pictured left when he was about 20 years) and meantime his mother re-married and moved to Southam. This brought the family and her descendants to a long and enduring link to the town.
Ralph lived in Mountfield Gardens and was well known in the town being a regular church goer, a bell ringer, and as a keen footballer who captained Southam United First Team. They were a close family and he is pictured below with his brothers. In 1910 he married Mabel Alice Duckett and the club presented them with a fine clock as a wedding gift. This clock, together with the presentation message from the team, is housed in the Southam Heritage Collection.  He is pictured (right) before WWI broke out. By then he was working as an agent for the Prudential Insurance Company.
On the outbreak of war Ralph rejoined his old regiment the 1st Battalion of the Bedfordshires as part of the B.E.F. and one of their first actions was the battle of Mons. 

Parcels containing food and cigarettes were sent from the town organised by the landlord of the Horse and Jockey public house (now the Old Mint). One such parcel was destined for Private Ralph Griffin who was by then in the trenches at Wulverghem.  In the battle and the subsequent retreat almost eight thousand men were lost and one was Private Griffin. According to his grandson, Alan Griffin, on Friday 8th January 1915 Ralph was shot through the head by a German sniper as he opened the parcel sent by his Southam pals.
Private Ralph Griffin has no known grave but his name is one of the 50,000 carved on the Menin Gate at Ypres. His pocket watch, which it said he was carrying at the time of his death, has been donated by his grandson Bill Griffin to Southam Heritage Collection.
Mabel, his young wife, found herself a widow with three young sons after less than four years of marriage. With a totally inadequate pension she took a job in a munitions factory in order to support the family.