Southam in WW1
Centenary Archive
Honouring those who died and all who served

Private Henry Glenn (202898)
Private Henry Glenn was the son of Henry Glenn and his wife Clara Elizabeth. Both Henry's father and grandfather (both called Henry) were whitesmiths. (A 'whitesmith', sometimes called a 'tinsmith', is someone who repairs articles in tin and other light metals). The family lived in a small terraced house next to the Red Lion pub and the grandparents lived next door. Henry and Clara had thirteen children, one of whom died. Henry, born in 1898, was their ninth child.
Henry Glenn was just nineteen years old when he died on the Somme during the winter following the main battles. He died of his wounds on 28th December 1917 but the circumstances of his death are not known. His Battalion, the 2/7th Warwickshire were not in the line when he died. In December the depleted Battalion has been in support and quartered first in tents. The weather was particularly inclement with a strong north-easterly wind and periods of frost, rain, fog and snow.
According to the War Diaries there were no beds and little comfort when the men were next billeted in barns at Sailly Laurette. There was a multi-faith service, a concert on Boxing Day, and many jobs to be done.  When Henry Glenn sustained his wounds is not known but he seems not to have been evacuated but he died of wounds. He is buried at Abbeville Communal Cemetery Extension and also is commemorated on the plaques in both the Parish and Congregational Churches and in the churchyard.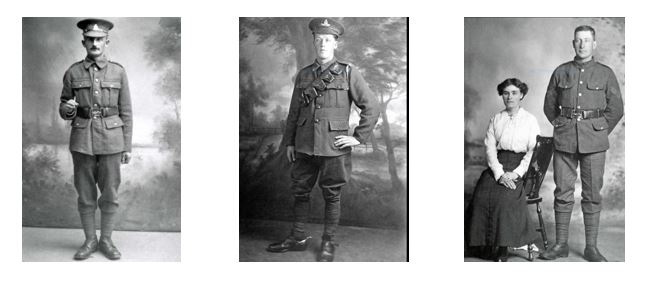 These three pictures, said to Henry Glenn, occur in the Alan Griffin Collection at SHC (991-14-20) but they appear to be different individuals. Maybe the couple are Henry Gould and his wife who was Henry Glenn's sister. Any information about these pictures would be very welcome.