Southam in WW1
Centenary Archive
Honouring those who died and all who served

Lance Corporal David Henry Gillmore (18893)
David Gillmore was one of nine children of David and Mary Gillmore who lived on the Leamington Road near to the Lilley Smith Memorial. David (senior), a quarryman, hailed from Buckinghamshire, whilst Mary was a Southam girl. By the age of thirteen in 1911 David (junior), was working as a 'hall boy'.
Four years later, in May 1917 Lance Corporal Gillmore was serving with 16th Battalion, Royal Warwicks on the front line where they had been under concentrated artillery bombardment for several days. Many men were seriously wounded or killed and one of these was nineteen-year-old David Gillmore who, on May 12th 1917, died of his wounds in trenches near Fresnoy, on the Arras Front.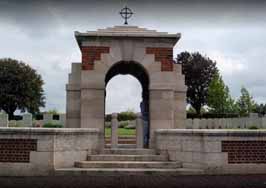 David Gillmore is buried in the Barlin Communal  Cemetery Extension, Pas de Calais, France. The vast cemetery holds 1,094 graves. The monument was one of several designed by the distinguished architect Sir Edwin Lutyens.