Southam in WW1
Centenary Archive
Honouring those who died and all who served

Private William George Garratt (139349)
(Alternatively spelt Garrett)
Private Garratt was killed on 28th September 1918, just a few weeks before the Armistice was signed.  He is interred, at the Hooge Crater Cemetery, Zillebeke, Belgium and, according to Alan Griffin, also buried there are two other Southam men, whom he would have known. Hooge is an area, not far from Ypres, which saw violent and sustained action throughout the war.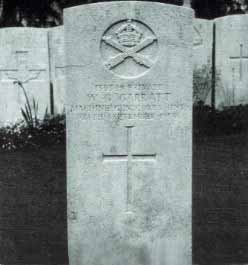 William G. Garratt was born in Southam in 1899, son of the blacksmith William H. Garratt and his wife Elizabeth. Elizabeth was daughter of William Fennell the plumber. The couple lived in a two-up, two-down house on Coventry Street, where they brought up five children – Harry, Olive, William, Ernest and Bessie.
Private William Garratt, just nineteen-years old, had served with the Norfolk Regiment and was with the 9th Machine Gun Corps, when he was killed in this area of violent warfare. The imposing Hooge Crater Memorial, (pictured below left) was designed by Sir Edwin Lutyens. The Hooge Crater Cemetery, pictured below right, holds over 5,000 graves of which 3,000 were  those  of unidentified soldiers who died on the Ypres Salient.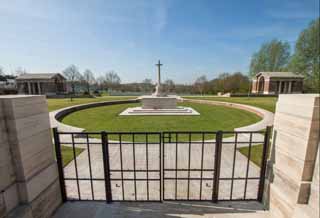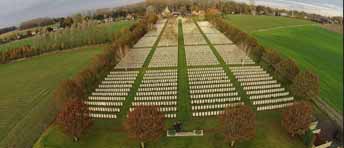 Below is the Memorial Plaque issued to William Garratt's family after the war (kindly loaned by Mr J Branston).