Southam in WW1
Centenary Archive
Honouring those who died and all who served

Gunner Alfred Devenport (39449)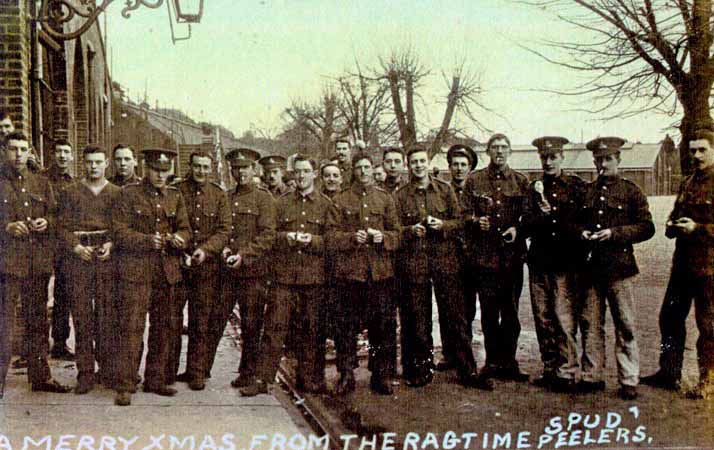 Alfred was born in 1887. Before war broke out, like his father Alfred was a quarry man. He served as a gunner with the 108/Heavy Battery of the Royal Garrison Artillery. Pictured here on this group of soldiers, Alfred is said to be the tall man at the back.[1]
In early July 1916, on first hearing that his son was injured on the battle of the Somme, Alfred (senior) set off for France although he had no information of his son's whereabouts. On July 8th a postcard arrived at the family home from him saying 'Arrived at Folkestone last night and going to sail this afternoon'. [2]  There is, suggests Alan Griffin, every reason to believe he made the crossing but it is not known if he arrived at the military hospital in Etaples where his son died. Tragically young Alf had died there of his wounds on July 7th  before his father had left England.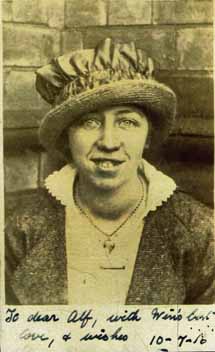 His personal effects were returned including a signed photograph of his girlfriend (see left) with its loving message. Sadly when Win had sent it on 10th July she had not known that he had been dead for three days. His father arrived home to more terrible news. His married son Arthur had also been killed on the Somme.
Alfred is buried in the vast Military Cemetery in Etaples, Pas de Calais, France.
[1] Family information from Norman Powell.
[2] Alan Griffin has copies of the postcards.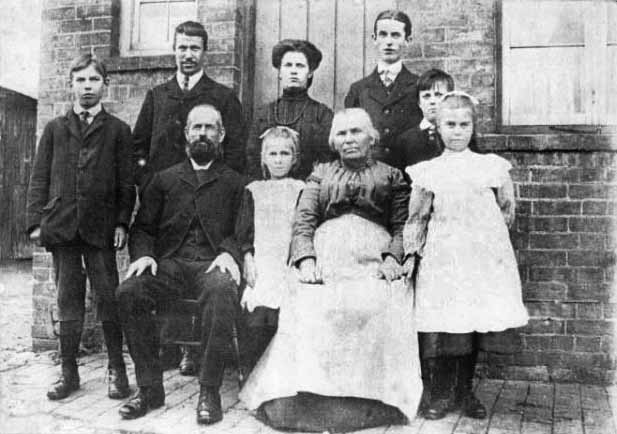 Pictured here are (back row): Alfred William, Annie Louisa and Arthur John,
(standing by their parents): Albert Henry, Alice Mary (centre), and Alan George standing behind Amy Helen.
Seated parents: Alfred and Louisa.