Southam in WW1
Centenary Archive
Honouring those who died and all who served

Captain William Thomas Chorley Davidson
Captain William Thomas Chorley Davidson was a single man, brother-in-law to Southam's Dr Lattey and uncle to the young seventeen-year-old midshipman Alexander Lattey, who died in action on HMS Hawke on 15th October 1914. Captain Davidson was killed on 13th October 1914. In just three days Dr and Mrs Lattey lost a brother and a son.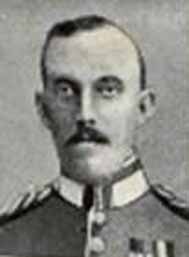 Captain Davidson was in charge of D Company 1st Battalion, Dorsetshire Regiment, in the Arras sector.  Early the morning of 13th October 1914, with the air thick with mist, the Germans bombarded Givenchy which was held by the Bedfords.  Late in the afternoon when the Germans attacked the east end of Givenchy some carrying lances, D Company led by Captain Davidson, engaged in hand to hand fighting suffering over 400 casualties. William Davidson was killed leading his company and he is commemorated at the Le Touret Memorial in Pas de Calais.
Davidson was born in Kensington in 1875, son of Thomas Davidson who was a member of the Royal College of Surgeons.  He was educated at Marlborough and joined the Dorsets as a second lieutenant in 1897.  He served with distinction in the Boer wars being highly decorated. He was promoted captain in 1904.
As a relation of Dr and Mrs Lattey, his death was reported in the Leamington Courier mentioning his distinguished service in the South African wars.