Southam in WW1
Centenary Archive
Honouring those who died and all who served

Private Leonard B Carter (1897 – 1917)
Leonard (sometimes called Bertie) was the second son of Harry Carter, a labourer and his wife Ellen. Harry, a general labourer, came to Southam from Middleton in Northamptonshire.
Before the war Leonard emigrated to Canada from the family home on Tattle Bank. He sailed on 15th November 1912 from Liverpool to St. Johns New Brunswick in Canada. He travelled alone and gave his occupation as 'labourer'.  He was fifteen years old. He lied about his age when later he enlisted in the Alberta Regiment of the Canadian Infantry. Fair haired and slight of build, he was just five foot three tall. He gave as his next of kin his older brother Joseph, who two years his senior seems also to have emigrated to Canada.
Bertie was a Private (402480) in the Canadian Infantry when he took part in the action at Vimy Ridge.  In the week prior to the action the 10th Battalion had spent many days rehearsing the attack behind the lines at a training ground at Estree Cauchie.  As Alan Griffin has pointed out bad weather and a heavy fall of snow on April 5th hampered the preparations. On the day of the attack there was a devastating death toll.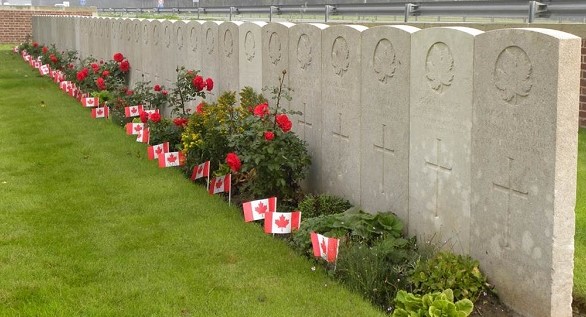 The reaction of one veteran is quoted on the Canadian Veterans website: 'such a noise I've never heard and hope I never will again'. Although this action was regarded as an unqualified success, a horrifying total of 3,600 men were killed on that Easter Day, Monday 9th April 1917.  Leonard was one of those who died in the action. He was only 20 years old and had been in France for just seven months.
He is buried at Nine Elms Cemetery at Thelus (1.D.29) 11 km west of Leper (Ypres) in France.