Southam in WW1
Centenary Archive
Honouring those who died and all who served

William Alison Bleloch (1890 – 1917)
From the cemetery details at Temple-le-Guerard in France we can learn that Lance Corporal William Alison Bleloch (285033) came from Bascote Heath and his family farmed at Fox Farm (currently an equestrian centre). His parents are listed on the CWGC information as George Turcan Bleloch and Alison Bleloch. He was born in 1890 and it may be that his mother Alison died when William was young for his father George is listed with a wife called Henrietta and a young family on the 1901 census.
Census details for William are spartan but in 1911 he was a boarder in Banbury at the home of a widow Mrs Jones and we can establish that he was born in Glasgow.  We know little about him before the war other than that he worked as an Engineering Draughtsman in the agricultural equipment trade.
He joined The Queen's Own Oxfordshire Hussars in 1910 and served in France from the outbreak of hostilities. He was badly wounded in action at Zouave Wood in the Spring of 1915.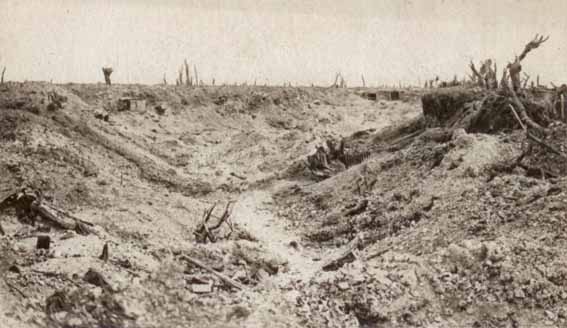 At the time of his death the regiment was at Guillemont Farm, which occupied an important point in no-man's land between the German and Allied Trenches. William and his squadron were asleep in a dugout having been relieved at 3.00 am in the morning. At midday a German shell landed on their position instantly killing him and three other men.
William Bleloch is buried in France, in the British Cemetery at Templeux-le-Guerard (ll.F.8).  He died on 1st July 1917, on the first day of the Battle of the Somme.
This picture shows the effect of shelling on Guillemont High Street near where William was killed. It was a Daily Mail postcard in September 1916 just two months later.