Southam in WW1
Centenary Archive
Honouring those who died and all who served

Private Harry Bicknell (1878 – 1918)
Harry Bicknell was the eldest son of George Bicknell, an agricultural labourer and his wife Eliza.  George and Eliza had seven children.  Harry was well known in Southam having been a member of the Fire Brigade.  He also was captain of the Southam Rugby Football XV and a keen cricketer. Before the war he was a Life Insurance Agent.
Private Bicknell (28034) served in 10th Royal Warwickshire and at some point was wounded and hospitalised in England prior to returning to action.
Later he was taken prisoner in the German Spring offensive of 1918. The circumstances of his death are not clear. The Southam Parish Magazine reported he had died in a German Hospital on 6th June 1918 of wounds in the upper thigh caused by fragments of a shell dropped from an airship.
 As Alan Griffin has pointed out, by the summer of 1918 the use of airships on the Western Front had long ceased.  The grave details at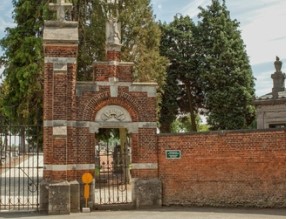 Dendermonde Communal Cemetery Extension in the Oost-Vlaanderen district of Belgium give a different date of death: 16th June 1918. By 1918 the use of fixed wing aircraft for bombing had increased dramatically.
It seems more likely, as Alan has suggested that the German internment camp in occupied Belgium where Harry was held was damaged during an Allied bombing raid.  According to CWGC the Dendermonde Communal Cemetery Extension was built by the Germans during WWI and graves were regrouped after the war. The Cemetery contains the graves of sixteen WWI soldiers who died whilst prisoners of war. Please see George Shorthouse's life history, in this archive, for an account of the starvation and intense deprivation suffered by prisoners.
Harry was aged 40 years when he died.  He left a wife Sarah, aged 44 years, who hailed from Stoke-on -Trent and an only daughter Alice, aged 17 years.  The family lived in Wood Street, Southam.